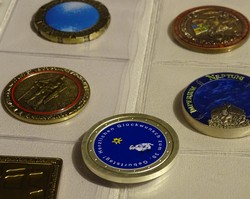 Ich sammele Geocoins seit 2011, seit Diana mir meine erste Geocoin zum Geburtstag geschenkt hat. Ihr Argument war, dass Münzen bei Umzügen zumindest besser transportabel sind als Perry-Rhodan-Hefte. 🙂
Wer Geocoins nicht kennt: Diese Münzen werden von der Geocaching-Community herausgegeben und sind über geocaching.com trackbar. Gedacht war es so, dass man die Münze analog zu einem Travelbug in einem Cache freilässt und dann zuschaut, wie sie von Cache zu Cache durch die Welt reist. Ich kann mir jedoch nicht vorstellen, dass das jemals sehr viele Menschen gemacht haben, denn Geocoins werden sicher noch viel öfter gestohlen als normale Travelbugs, und die kommen auch schon sehr häufig weg.
Stattdessen haben sich Geocoins zu einem tollen Sammelobjekt entwickelt. Sie sind hübsch und in der Regel limitiert. Ich persönlich sammele u.a. alle Münzen, die etwas mit Drachen, Wales und meinen diversen Lieblingsserien zu tun haben. Die Münzen für die chinesischen Jahre finde ich auch toll, und ansonsten alles, was irgendwie nach antiker Münze aussieht. Was gar nicht geht sind unregelmäßig geformte lustige Comicfiguren. Es muss schon noch irgendwie eine Münze sein.
Die folgende Liste aktualisiere ich ab und an von Hand, völlig ohne Hintergedanken mindestens im Dezember und Mai. 🙂
2006

2007

2008

2009

2010

2011

2011 Mega Wales Geocoin

Chinese Dragon Geocoin

CNY 2011 Year of the Rabbit Geocoin

(

4213

| Satin Gold / Red)

Cosmic Compass

(

4207

| Black Nickel / Red)

Frisia

Geoswag C&P Club November 2011 – Cache to the Moon

Haec Libertatis Ergo Geocoin

Hannibal Geocoin

(

4783

| Antik Silber + Rot)

Masters of Cache II – The Mummy Geocoin

Naymlap

(

2930

| Antik Bronze + Feueropal)

Save Our Playing Field Geocoin 2011

Southpole Geocoin

Space Shuttle Geodesic

The Colors of Geocaching: Energy

The Colors of Geocaching: Nature

The Colors of Geocaching: Optimism

Thurus

(

4051

| Antik Gold + Rot/Gelb)

Tick Geocoin

(

4871

| Polished Silver / Blau)

Troy Geocoin

(

4156

| Antik Messing / Rot)

Welsh Dragon Spinner

Winter BBQ

(

4928

| Black Nickel / Red)

My Personal Geocoin (zum 30. Geburtstag)

(Silber)

2012

2013

2014

2015

2016

2017

FSM (What would a Geocacher do?) Geocoin

(

9650

| Gold / Blau Glitter)
Anzahl: 111
Aktueller Stand: Mai 2020
Ich habe die Liste versucht chronologisch zu sortieren. Es war jedoch nicht immer einfach herauszufinden, wann genau eine bestimmte Münze erschienen ist oder auch nur, wie sie heißt. Die Nummer ist die eindeutige Nummer des Icons auf geocaching.com. Man kann sie am besten in der Geocoin-Liste der SSoCA nachlesen. Bei einigen Münzen ist die Nummer auffällig zu niedrig: Dann ist die ursprüngliche Münze älter, aber ich habe eine später erschienene Ausgabe (z.B. Naymlap oder die MV-Münze). Die habe ich dann in das Jahr einsortiert, in dem die konkrete Ausgabe der Münze erschien. Für Korrekturen bin ich immer dankbar, per Kommentar oder Mail.